Trans Activism Oral History Project
User Collection
Public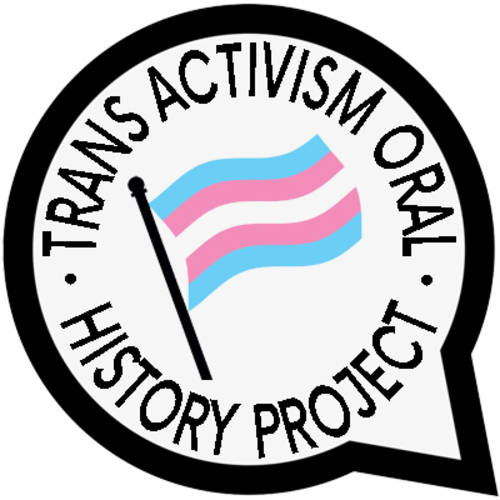 The Trans Activism Oral History collection was a project of LGBTQ History Digital Collaboratory. The collection consists of video and audio interviews with leading Trans activist elders from across North America.
The Trans Activism Oral History project's purpose was to record elders' history of activism on behalf of trans people and communities in order to establish and preserve trans-specific and trans-positive primary source historical narratives for future generations.
The interviews were collected in 2019-2020. The oral history project team consisted of: Elspeth Brown (PI), Aaron Devor (Collaborator), Evan Taylor (Interviewer), and Elizabeth Holliday (Project Assistant and Editor). The oral histories were donated to the University of Victoria Libraries Transgender Archives and The ArQuives: Canada's LGBTQ2+ Archives in 2020.
Founded in 2014, LGBTQ History Digital Collaboratory is funded by the Social Science & Humanities Research Council of Canada.
Resource type
Subject
Genre
Permalink: https://vault.library.uvic.ca/collections/7507b99a-2bcf-430c-ada0-0f0feffba4a3
Works (17)
List of items in this collection

| | Title | Date Created | Date Added | Visibility |
| --- | --- | --- | --- | --- |
| | | 2019-12-19 | 2021-08-18 | Public |
| | | 2019-12-30 | 2021-08-18 | Public |
| | | 2020-01-06 | 2021-08-18 | Public |
| | | 2020-01-07 | 2021-08-18 | Public |
| | | 2020-01-10 | 2021-08-24 | Public |
| | | 2020-01-27 | 2021-08-18 | Public |
| | | 2020-01-27 | 2021-08-18 | Public |
| | | 2020-01-28 | 2021-08-18 | Public |
| | | 2020-02-04 | 2021-08-18 | Public |
| | | 2020-02-07 | 2021-08-20 | Public |