Pacific Opera Victoria Poster Collection
User Collection
Public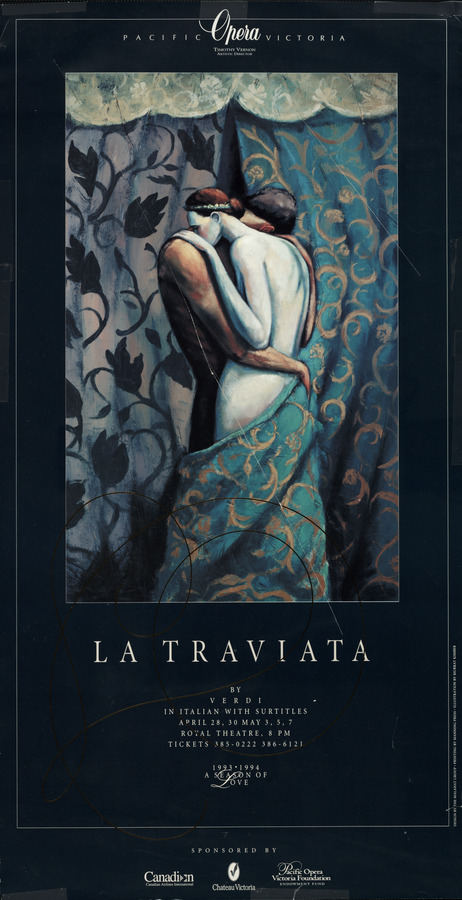 Pacific Opera Victoria (POV), founded in 1979 and incorporated in 1980, has earned a reputation as one of Canada's leading opera companies, thanks to its dynamic repertoire choices, its original productions, and its commitment to creating meaningful opportunities for artists and audiences.
In 2013, POV staged its 100th production, Verdi's Falstaff. While Falstaff was welcomed as part of the On Stage / Off Stage celebration of Shakespeare, this collection of posters was gathered to celebrate the milestone of the 100th production.
These posters advertise productions extending back to POV's earliest days as the Vancouver Island Opera Society. The posters show as much variety as the productions they advertise, drawing on local illustrators, photographers and typographers to convey the flavour of each opera.
Resource type
Subject
Genre
Location
Permalink: https://vault.library.uvic.ca/collections/18df46ba-bba1-476e-9626-bb6f8ae1b8e1
Works (32)
List of items in this collection

| | Title | Date Created | Date Added | Visibility |
| --- | --- | --- | --- | --- |
| | | 1977 | 2021-02-18 | Public |
| | | 1981 | 2021-02-18 | Public |
| | | 1981 | 2021-02-18 | Public |
| | | 1986 | 2021-02-18 | Public |
| | | 1986 | 2021-02-18 | Public |
| | | 1987 | 2021-02-18 | Public |
| | | 1989 | 2021-02-18 | Public |
| | | 1990 | 2021-02-18 | Public |
| | | 1991 | 2021-02-18 | Public |
| | | 1992 | 2021-02-18 | Public |