Victoria Fire Insurance Plans
User Collection
Public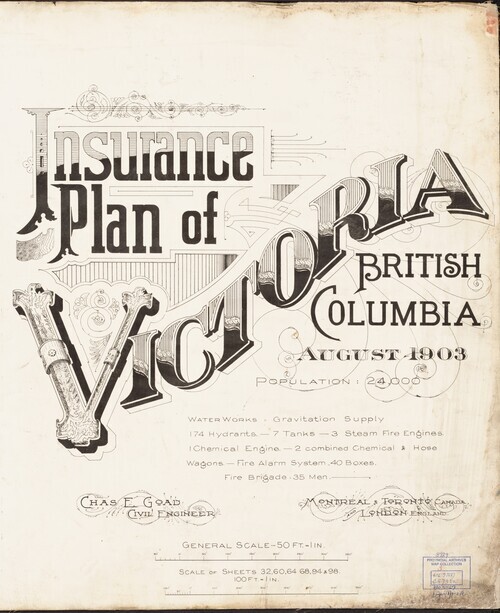 The Fire Insurance Plans (FIPs) from 1885 to 1916 are undoubtedly the best maps of Victoria for the period.
Created by Charles E. Goad and Company to assist insurance underwriters in determining fire insurance risk these coloured maps show the developing neighbourhoods of the city at a scale of 50 feet to the inch -- so detailed a single sheet often only fits four entire blocks. There was not much about the city and its buildings that missed the eye of the underwriters and the information is all here for historians, geographers, genealogists, and the just plain curious.
In this digital collection drawn from the BC Archives collection are all of the 1891 plans, the full set of 1903 plans (with revisions to 1909 indicated), and the surviving plans from 1911 plans (revised to 1913). The number of plans required expanded to cover the city grew from 31 in 1891 to over 170 in 1913.
The University of Victoria Libraries wishes to thank the BC Archives for making these maps available and supporting their digitization.
Resource type
Subject
Genre
Location
Permalink: https://vault.library.uvic.ca/collections/6cf241ab-b4ef-44c2-8b6c-38a9de32f7d5
Works (5)
List of items in this collection

| | Title | Date Created | Date Added | Visibility |
| --- | --- | --- | --- | --- |
| | | 1895 | 2019-03-02 | Public |
| | | 1903 | 2019-03-01 | Public |
| | | 1913 | 2019-03-02 | Public |
| | | 1913 | 2019-03-02 | Public |
| | | 1916 | 2019-03-02 | Public |