Victoria Feminist Newsletters
User Collection
Public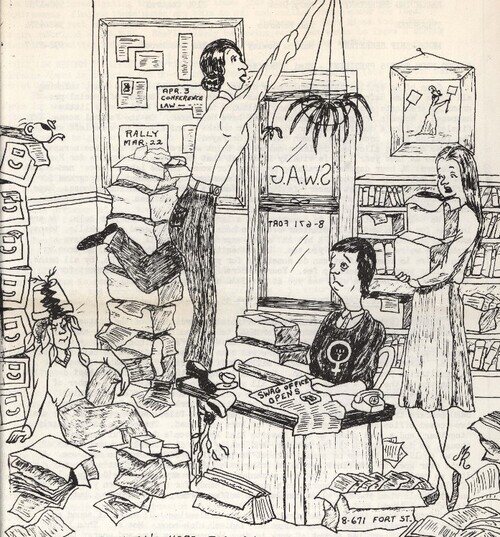 This digital collection documents organizing and awareness activities of Victoria-area feminist groups, and consists of 339 issues from 17 feminist newsletters dating from 1970 to 2002.
These newsletters form a part of the Victoria Women's Movement Archives collections, an initiative that began in 1995 as a collaborative effort between women's organizations in Victoria, the University of Victoria Archives, and the Department of Women's Studies (now Gender Studies Department).
The collection was established in order to preserve and provide access to important primary sources documenting the history of women's movement groups in Victoria, in recognition of the important contributions local women made to the improvement of women's social, economic and political condition in the Victoria area.
Titles include: B.C. Voice; Flagrant; Herizons: Women's Feminist News; Island Women Weekly News; *LesbiaNews; Older Women's Project Newsletter; Prime Time; SWAG (Status of Women Action Group) Newsletter; Sea-Side Woman Magazine; The Open Door; The Women's Centre Newsletter; V.L.S.C.S. (Victoria Lesbian Seniors Care Society); Victoria Voice of Women; Waves; We are Visible; Web of Crones; and Women's Building of Victoria Society Newsletter
Many thanks to the many individuals and organizations who have contributed materials to the collection.
Additional listings of women's movement archival materials can be found in our database of archival descriptions.
*LesbiaNews' title changed several times over the years and includes Ellenews, LNews, Lavender Rhinoceros, and Outviews.
Image from cover of "SWAG Newsletter, Vol. 03, No. 01 (March 15, 1976)"
Resource type
Subject
Location
Permalink: https://vault.library.uvic.ca/collections/7f5cbee4-3aa5-4541-948f-c77f95993c4f
Works (339)
List of items in this collection

| | Title | Date Created | Date Added | Visibility |
| --- | --- | --- | --- | --- |
| | | November 1971 | 2022-11-25 | Public |
| | | April 1973 | 2022-11-25 | Public |
| | | June 1973 | 2022-11-25 | Public |
| | | October 1973 | 2022-11-25 | Public |
| | | April 1974 | 2022-11-25 | Public |
| | | August 1974 to September 1974 | 2022-11-25 | Public |
| | | November 1974 to December 1974 | 2022-11-25 | Public |
| | | March 1975 | 2022-11-25 | Public |
| | | July 1977 | 2022-11-25 | Public |
| | | October 1976 | 2022-11-25 | Public |