World War One Photographs and Journals
User Collection
Public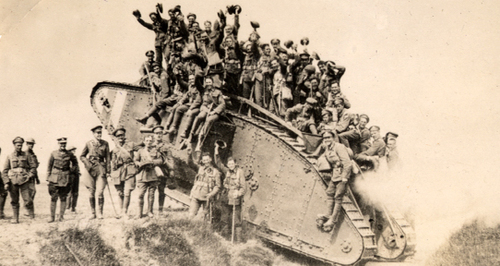 World War One photographs and journals selected primarily from the Archie Wills fonds.

Archie H. Wills (Henry Archibald Wills) was born in Victoria, British Columbia on 11 September 1892. His parents, Frank Henry Wills (1864-1953) and Sarah Ann Porter (1861-1946) were born in England and immigrated to Canada in 1887 and 1890, respectively. Frank Wills was a carpenter and built many houses in Victoria, including his own family's which was located in the Spring Ridge area of the Fernwood neighbourhood. Archie attended Spring Ridge School and Victoria High School.
Upon seeing an advertisement for an editorial room office boy at the Victoria Daily Times, Archie immediately decided he wanted to be a newspaperman, and left school to do so at age fifteen. Within a few months he had begun to write short pieces for the Times. In 1910 he was made Marine Editor for the paper, a position he held for five years until he enlisted for World War I. Archie embarked upon a round-the-world trip in 1913 but only went as far as Toronto, where he met Lydia Mary Knapp, a successful amateur singer. He returned for a visit in 1914 and they were engaged. Unable to join an aerial corps (he had a life-long interest in aviation), Archie joined the 58th Battery, Canadian Forces Artillery. He trained at Fort MacAulay, Petawawa, and Witley (England) and then saw sixteen months of action in France. Lydia and Archie married on 3 September 1919. They had three children, Kenneth (b. 1922), Eileen (b. 1924), and Dorothy (b. 1928).
When he returned to Victoria and the Times in 1919 Archie was assigned the police beat. Other assignments followed: he was Sports Editor from 1920-27, City Editor from 1928 to 1936, and Managing Editor from 1936 until his retirement from the Times in 1951. During his career at the Times he also served Victoria in a number of public offices: as police commissioner for two years, Chairman of Fire Wardens for seven years, a Director of the Chamber of Commerce for twelve years, a member of the War Board for the duration of WWII, and an alderman on City Council for ten years (1934-44), the last three of which he was Acting Mayor of Victoria. Archie was a charter member of the Victoria Gyro Club, a member of the Multiple Sclerosis Society, and a member of the Royal Canadian Legion. He was connected with the YM-YWCA throughout his life and was a lifelong member of the congregation of the Metropolitan United Church (earlier the Metropolitan Methodist Church).
After 1951 Archie continued to sell stories and act as Victoria correspondent of the Seattle Times. He continued to write for the Victoria Times and the Daily Colonist until the early 1980s. In 1951 on retirement from the Times he began a career in public relations, including work for the Victoria Milk Distributors Association. He assisted with local labour adjudications, and, along with Lester Patrick, revived the Victoria Cougars hockey franchise. Archie was Managing Secretary of the Victoria Downtown Business Association when it formed in 1953, and he worked with the Association until 1969. He retired from public relations in 1969, the year of his and Lydia's golden wedding anniversary. He continued to write, travel, and spend time with his by then extensive family. Lydia died in 1985. Archie died 5 April 1988 in Victoria, aged 95.
Image: soldiers on tank, Somme, France (AR394_3_09_64_01)
Resource type
Subject
Genre
Permalink: https://vault.library.uvic.ca/collections/86daed7a-2917-455c-a8ee-06aa47d69cc9
Works (303)
List of items in this collection

| | Title | Date Created | Date Added | Visibility |
| --- | --- | --- | --- | --- |
| | | 1914/1918 | 2022-01-11 | Public |
| | | 1914/1918 | 2022-01-11 | Public |
| | | 1914/1918 | 2021-12-16 | Public |
| | | 1914/1918 | 2022-01-11 | Public |
| | | 1914/1918 | 2022-01-11 | Public |
| | | 1914/1918 | 2022-01-11 | Public |
| | | 1914/1918 | 2022-01-11 | Public |
| | | 1914/1918 | 2022-01-11 | Public |
| | | 1914/1918 | 2022-01-11 | Public |
| | | 1914/1918 | 2022-01-11 | Public |