Mathew Ko Colour Films : Victoria's Chinatown and Region
User Collection
Public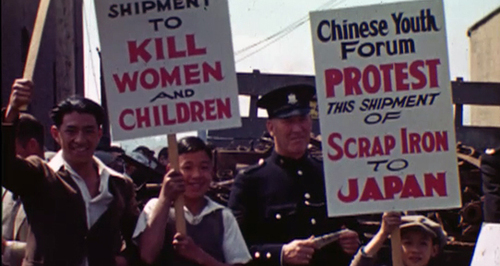 The films:
The amateur films of Mathew Ko date from the late 1930s to early 1950s and are examples of the popular home movie genre. As historical documents, Ko's films are exceptional: in their record of family and community life in Victoria and the region during this time, for the number of events represented in each film, and for the use of colour film stock. Aside from a small amount of footage in black and white, Mathew Ko shot in 16mm Kodachrome (introduced by Eastman Kodak in 1935), as well as Kodak and Ansco 16mm stock. Though they contain no sound tracks, his films vividly document significant social, cultural and political events in Chinatown and other areas of downtown Victoria and surrounding neighborhoods, Vancouver Island, the City of Vancouver and the Lower Mainland.
Scenes from the films include: Beacon Hill Park; the Chinese Public School; the Empress Hotel, the Parliament Buildings and Inner Harbour; family scenes, outings and trips; a protest against the sale of scrap iron to Japan (August 1939); pageants and celebrations in Victoria's Chinatown, including the Rice Bowl Festival, Lion Dance and martial arts demonstrations; Royal Athletic Park pageant and drill team events; the Royal Visit of King George VI and Queen Elizabeth to Victoria (May 1939); trains and steamships; World War II patriotic and post-War parades in Victoria and Vancouver; and youth activities including Scouts and YMCA outings.
Mathew Ko and family
Mathew Ko (1909-2000) was a Victoria-born businessman, the son of Simon Ko Bong and Chui Tong Biing. Simon Ko Bong was a successful retailer and jeweler, and a prominent leader in British Columbia's Chinese Canadian community. Mathew's nine siblings Mark, Luke, John, Mable, Ruby, Mary, Peter, Andrew, and Garnet were also born in Victoria. Mathew ran the family business GB Simon Jewelry and Watch Repair at various locations in Victoria, including on Government and Yates Streets.
The films were donated in 2013 by Mathew Ko's daughter Ms. Valerie Ko, and with the assistance of artist and writer Robert Amos, RCA. Valerie Ko served in the Canadian Naval Reserve for 32 years and owned and operated the GB Simon business in Victoria from 1984 until her retirement in 2015. Robert Amos is the author of a number of books on art and local history, including Inside Chinatown: Ancient Culture in a New World (2009), co-authored with Kileasa Wong.
Resource type
Subject
Genre
Location
Permalink: https://vault.library.uvic.ca/collections/ed61bace-5c1c-4e77-975e-0f6f943ae92d
Works (12)
List of items in this collection

| | Title | Date Created | Date Added | Visibility |
| --- | --- | --- | --- | --- |
| | | 1935/1936 | 2021-03-31 | Public |
| | | 1939 | 2021-03-31 | Public |
| | | 1939 | 2021-03-31 | Public |
| | | 1939/1942 | 2021-03-31 | Public |
| | | 194X | 2021-04-01 | Public |
| | | 194X | 2021-03-31 | Public |
| | | 1940 | 2021-03-31 | Public |
| | | 1946 | 2021-03-31 | Public |
| | | 1948/1949 | 2021-03-31 | Public |
| | | 1949 | 2021-03-31 | Public |